2020 Best Christmas Lights, Custom Smart LED String Lights Reviews
Christmas is coming. What decorations have you prepared for Christmas? I think Christmas lights should be bought by everyone. Which lights do you think will make your Christmas especially warm? Let your neighbors envy your home. Next, I recommend a few particularly beautiful Christmas lights.
1.
Solar Wind Chimes Light Outdoor, Wind Chimes with Colorful Light
2. Custom Smart LED String Lights, Christmas Tree Jollylights Custom Decorations
This light string is a good choice for decorating a Christmas tree. The lighting effects can be controlled through the mobile app. Using this light string can create a very warm environment.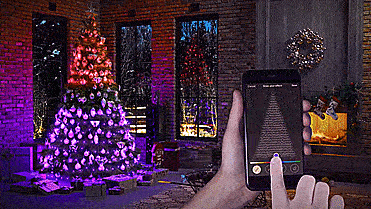 3. 
Color Changing Glitter LED Flameles Romantic Crystal Candle Light
This color-changing rotating candle can create a very romantic atmosphere. It will definitely make you spend an unforgettable Christmas with family and friends
4. 
Electric Paint Lamp Kit – DIY Electronics
This DIY lamp uses electric paint to turn any paper into a touch-sensitive lamp! No tools, no programming, no special skills to design your own lights
5. LED Starburst Lights with Remote, Christmas Decorative Hanging Lights for Party Patio Garden Decoration
These fireworks shaped lights are very beautiful. There are many colors to choose from. Remote control can be used to control the lights. Perfect for home decoration, gardens, parties, weddings, Christmas trees, etc.
6. Smart Custom LED Window Curtain String Light
This led curtain light string can adjust the lighting effect by remote control. You can install fairy tale curtain lights wherever you like.
7. Waterproof Solar Fireworks Lamp, Outdoor Solar Garden Decorative Lights
This solar light makes your yard as gorgeous as fireworks, and it is also an exquisite gift for parents, sisters, and friends. There are 8 different lighting modes. Protection grade IP65, easy to install. You can create various appearance lights yourself.
8. Snowing Music Christmas Lights
This Christmas lamp can be used not only for lighting but also for playing music. Increase the Christmas atmosphere. It is a good Christmas outdoor decoration light.
9. Desktop Bonsai Tree Light, DIY Artificial Light Tree Light Decoration
This exquisite fairy tale tree lamp brings a romantic atmosphere into any room! The perfect gift that looks great as a decoration in your loved home or office. Easy to install and move, it is absolutely perfect for indoor and outdoor decoration.
10. Rustic Handmade Wall Decor Hanging LED Fairy Lights
This hanging wall lamp is a great gift. It is in harmony with your home decoration. Can be used as birthday gifts, commemorative gifts, Christmas gifts.
11. Christmas Lights,Snowflake String Lights 
This snowflake light string can be bent into any shape. Very suitable for Christmas decoration.
12. Christmas Decoration Blue Light
This Christmas blue light string can be used to decorate curtains or outdoors. There are a variety of lighting modes, which can be set to be on or flashing by remote control. Suitable for weddings, birthday parties, Christmas.
13. Christmas String Lights, Pink Light Decoration
This Christmas pink light string can be used outdoors and indoors. The light string is waterproof, but the controller and plug are not waterproof and should be placed in a dry place. There are 8 light modes. Suitable for weddings, birthday parties, Christmas.
14. Visible Flowing Lighting USB Charger Cords